We help you get in-touch with people.
我们极力为客户对接更多群众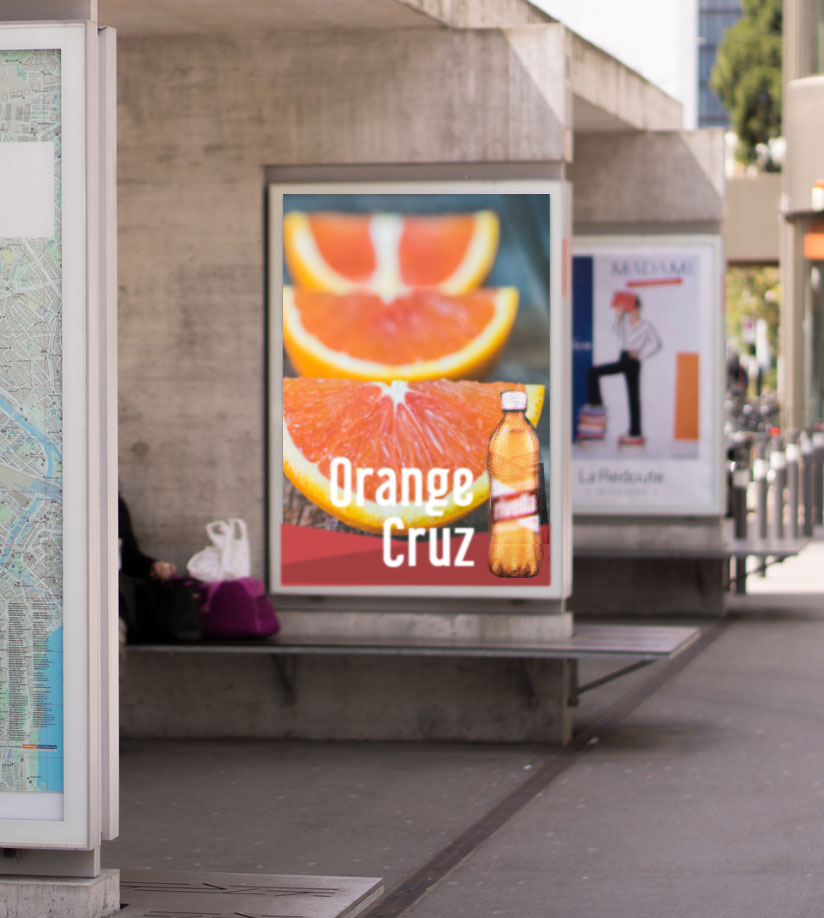 Digital LED screens. Networked by cable to central management site.
Located at crossroads of major streets, on main roads or in high-traffic central shopping districts. Cooperation with SOEs and rights granted by local government.
数码LED屏幕。通过电缆连接至中央管理站点的网络布局。
位于重要大街或主要道路的十字路口,以及人流交通最稠密的中心购物区。
与国营企业合作,经当地政府授权。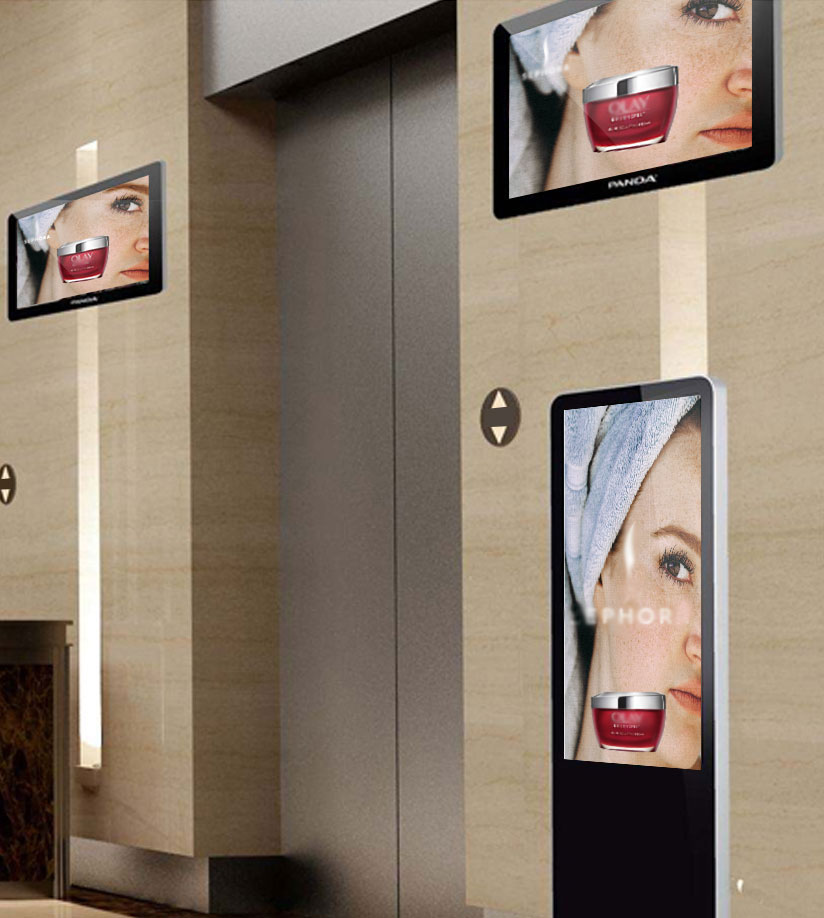 Media contact with the audience in the channel overall exposure of 84%. Media attention that BAMC CITYTV audience on the degree of concern as high as 81.8%. Acceptance of the media, 74% of audience clearly accept the broadcasting of television programmes and advertisements LCD TV interludes broardcasting at the same time.
The attention of the audience watching the media for an average of six minutes. Including financial, medical, government, automotive, and other systems audience watching media attention for a longer time, the average 9-12 minutes.
Advertising will affects the brands and products, 67.5% of audience believes that it helps enhance the product's image; 43.6% of audience believes that it will affects the desire of purchase. Using advanced DVB-T wireless network transmission technology. Traditional forms of television are installed outdoors, more than 10,000 terminals scale, high-density urban public coverage.
Form : In-building LCD screens / PDP plasma TV.
Distribution : City public systems : Governmental buildings, Office buildings, Hotels, Banks, Hospitals, Supermarkets, shopping malls.
Olympic-related systems : Olympic-related agenics, Olympic contracted hotels, Olympic Licensed merchandise shop, Olympic stadium.
Quantity : 10,000 panels.
媒体接触度受众在各渠道的总体接触度达到 84%。媒体关注度 受众对城市电视的关注程度高达 81.8%。媒体接受度 74%的受众对"既播放电视节目同时又穿插广告的液晶电视"明确表示接受。受众当次留意观看媒体时间 平均为6分钟,其中金融、医疗、政府、汽车等系统受众留意观看媒体的时间更 长,平均在9-12分钟广告对品牌/产品的影响 67.5%的受众认为有助于提升品牌形象;43.6%的受众认为对平时购物有影响。采用先进的DVB-T无线网络传输技术,将传统电视形式植身户外,以上万台终端规模,高密度覆盖城市公共处
媒体形式:建筑物内LCD液晶电视 / PDP等离子电视。
媒体分布:城市公共系统:政府机关、写字楼、酒店、银行、医院、商超、各类文化休闲场所等。
奥运相关系统:奥运相关机构、奥运签约酒店、奥运特许商品店、奥运场馆。
媒体数量:10,000屏。
In-building LCD screens - Media broadcasting form
LCD楼宇电视 - 媒体播出形式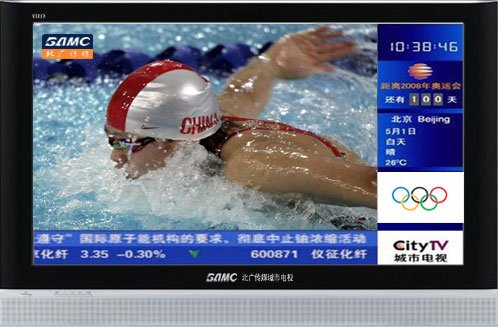 High-frequency form of broadcast advertising 40-60 times a day/ Interludes broadcast high-frequency roll-form broadcast: in the spots between programs, the best programs to promote effective advertising ratings.
Specially L panels, TV Logo, News Subtitles, Public Subtitles, Olympic count down displays,  International / China's weather displays.
高频次广告播出形式全天40-60次/高频次滚动播出穿插式播出形式:插播在节目之间,以精彩的节目带动广告有效收视 。
独特的L型屏幕,电视台标,新闻字幕链,公共信息字幕链,奥运倒计时时间显示区,国际/国内天气预报显示区。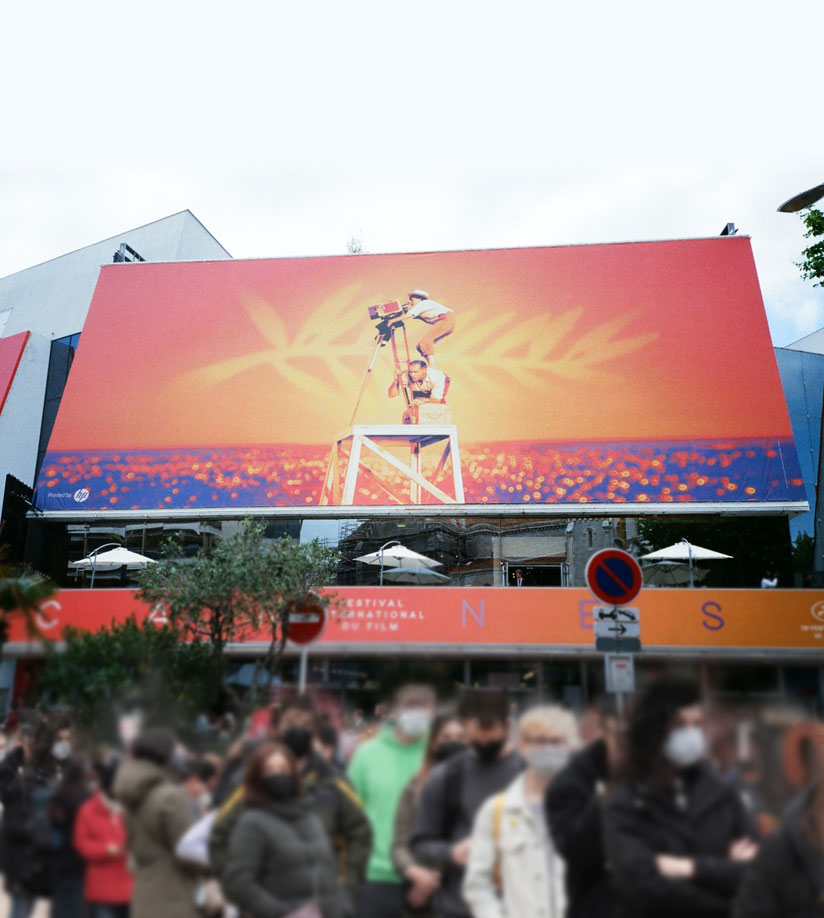 Commercial LED Billboard
商业LED大屏幕电视
Commercial LED billboard is under the Beijing Municipal People's Government and the 2008 Beijing BOCOG of the "Beijing Olympic Action Plan" and the construction of new outdoor television network media hookup. Set 19 commercial LED mega-size billboard television hookup television networks, Monomer visual area 60 – 400 square meters, reasonable distribution of important business location in the city, and crowds gathered area. The performance of a rich and intuitive so that the impact of the strong visual audience experience feelings. Commercial LED mega-size billboard adoption of a unified management, Survey content broadcast sports, news, fashion, entertainment, public service information, as well as major events broadcast, flexible broadcast and brilliant programme.
Forms of media : In-building LCD screens / PDP plasma TV.
Media distribution : Wangfujing, Xidan, CBD、West Railway Station and other most important commercial and prosperous areas in Beijing、transport hub sector.
The number of media : 19 locations. (Commercial LED billboard distribution)
商业LED大屏幕是根据北京市人民政府与2008北京奥组委制订的《北京奥运行动规划》而建设的户外电视新媒体联播网络 。集合19处商业大屏幕电视可联播的电视网络,单体可视面积60 – 400平米,合理分布于城区重要商业地点和人流聚集区,以丰富的表现力和直观的冲击力使受众体验强烈的视觉感受。各商业大屏采用统一管理,播出内容汇集体育、新闻、时尚、娱乐、公益、服务信息以及重大事件播报,播出灵活,节目内容精彩纷呈。
媒体形式 :

建筑物内LCD液晶电视 / PDP等离子电视。

媒体分布 : 王府井、西单、CBD、西客站等北京市最重要商业繁华地段、交通枢纽地段。
媒体数量 : 19处。 (商业大屏幕电视的分布图)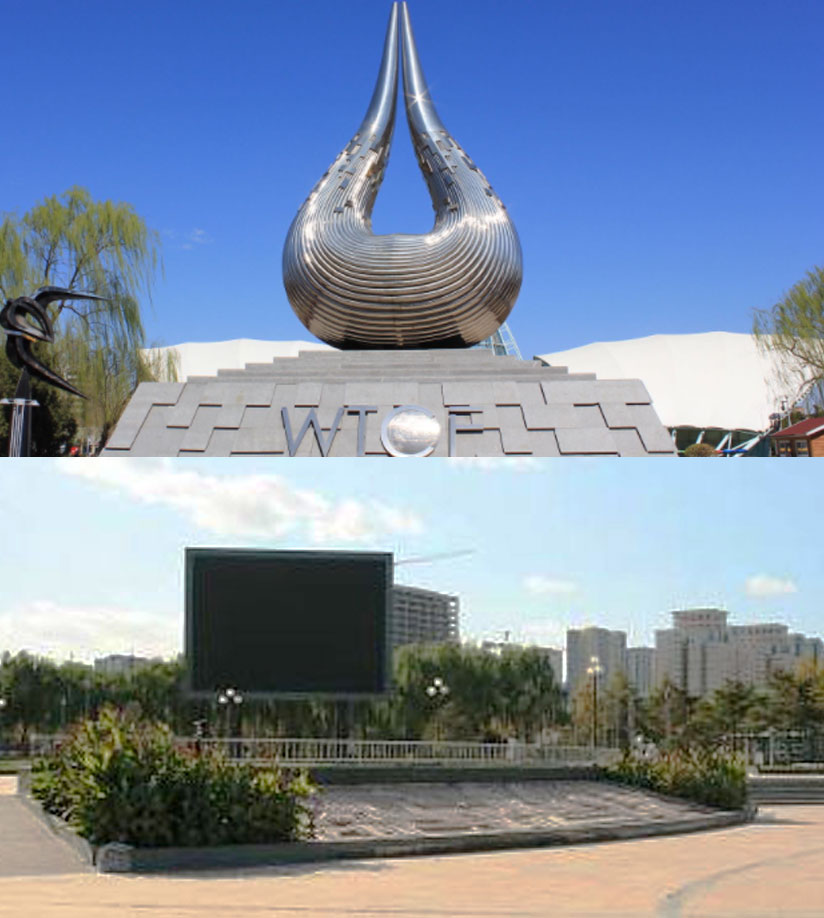 Olympic Cultural Plaza LED Media Billboards
奥林匹克文化广场LED广告牌
Olympic Cultural Plaza is creating a community-Olympic warm and harmonious atmosphere, humanity is the carrier of the Olympic Games activities. Prior to the Olympics in 2008 the city will build 25 Olympic Cultural Square. 25 Olympic Cultural Squares will be installed mega-size LED screen for public viewing sports competition. In addition, related Variations Cultural Square will be on the Olympic practice, Chinese and foreign artists held an open-air theatrical performances and open theme exhibition; the establishment of the activities of the Olympic Sponsor Showcase; Licensed Olympic merchandise Monopoly areas and the exchange of Olympic souvenirs District; meanwhile, it will also provide catering, security and emergency medical services, etc. Synchronization can be set up and broadcast the Olympic competition on LED outdoor mega-size billboard, so that the public can enjoy cultural activities, also closer to Olympic competition, states Olympic athletes refueling. These 25 squares from June 23, 2008 (The Day of International Olympic) started, continued until the time of the Paralympics closing, at that moment it will be open to the general public free of charge. 25 of mega-size billboards will hookup the networks in Olympic Cultural Squares, around in the City / county suburbs Cultural Square Centre, to maximize attract the attention of the audience, create a thick atmosphere of the Olympic ratings. 
Forms of media : City Culture Plaza 、Outdoor LED billboard in Playground.
Media distribution : Xidan、Chaoyang Park, Beijing International Sculpture Park, Shunyi Guangming Cultural Square and other large outdoor cultural squares.
The number of media : 25 billboards. (Olympic Culture TV billboards distribution)
奥运文化广场是以社区为单位营造热烈和谐的奥运氛围、是人文奥运活动的载体。 2008年奥运会之前本市将建设25座奥运文化广场。 25个奥运文化广场上将安装大屏幕,供公众观看体育比赛。 此外,各文化广场还将按奥运会惯例,举办中外艺术家的露天文艺演出和露天主题展览;设立奥运赞助企业的活动展示区;奥运特许商品专卖区和奥运纪念品交换区;同时还将提供饮食、安保和医疗急救服务等。并设置可同步转播奥运比赛的LED户外大屏幕电视,让市民既能享受到文化活动,也可近距离接触奥运比赛,为各国奥运健儿加油。 这25个广场将从2008年6月23日(国际奥林匹克日)开始启动,一直持续到残奥会闭幕时止,届时将向广大市民免费开放。 25块奥运文化广场大屏幕的电视联播网络,遍布于城区 / 郊区县中心文化广场,能够最大限度地吸引受众的注意力,营造浓厚的奥运收视氛围。
媒体形式 : 城市文化广场、公园内LED户外大屏幕电视。
媒体分布 : 西单、朝阳公园、北京国际雕塑公园、顺义光明文化广场等大型户外文化广场。
媒体数量 : 25块。 (奥运文化大屏幕电视分布图)

BAMC City TV network
北广传媒城市电视有限公司
BAMC City TV network is a dazzling new star in the field of outdoor TV new media. It owns the only new urban outdoor TV media in Beijing that has been officially approved by the national radio and television management department, including LCD building TV network, commercial LED outdoor TV Three major new media networks: large-screen TV and LED outdoor large-screen TV in Cultural Square.
Beijing region by the state only a broadcast management departments formal approval to offer a professional outdoor TV media, has a complete audio-visual programe wireless digital signal transmission system.

BOCOG Propaganda Department designated the 2008 Beijing Olympic promotional outdoor TV media.
Have the right to Press Release / Qualification programe of outdoor television broadcast media.
Real-time reporting of urban public information / published city early warning information outdoor TV media.
北广传媒城市电视有限公司是户外电视新媒体领域耀眼的一颗新星旗下拥有目前北京地区唯一一家经过国家广电管理部门正式批准开办的城市户外电视新媒体,包括LCD楼宇电视联播网、商业LED户外大屏幕电视、文化广场LED户外大屏幕电视三大新媒体网络。
北京地区唯一一家经国家广电管理部门正式批准开办的专业性户外电视媒体,拥有完整的视听节目无线数字信号传输系统。

2008北京奥组委宣传部指定奥运宣传户外电视媒体。
拥有新闻发布权 / 节目内容播出资质的户外电视媒体。
实时播报城市公共信息 / 发布城市预警信息的户外电视媒体。