We help you get in-touch with people.
我们极力为客户对接更多群众。
Network CN Inc. Adds Mega-Size Digital Video Billboard in Wuhan to Its Media Network
安博的媒体网络于武汉增加大型数码视像广告牌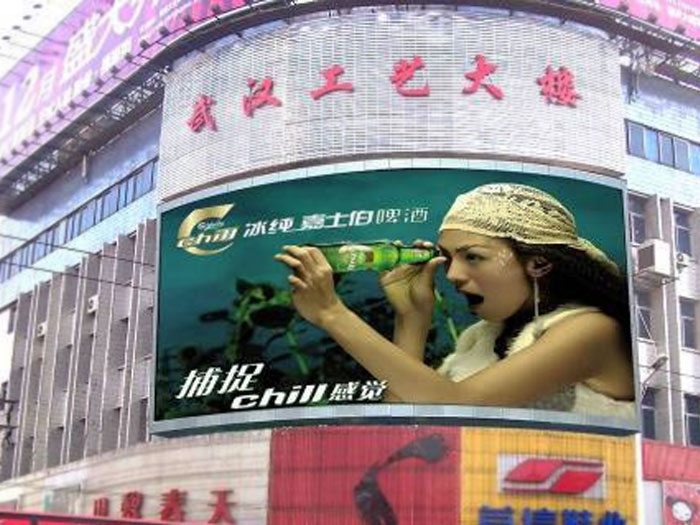 Network CN Inc. has entered into a business cooperation agreement with Wuhan Weiao Advertising Company Ltd. Under terms of the agreement, Network CN, through its subsidiary, Shanghai Quo Advertising Company Ltd., is authorized to install and operate a 200-square- meter digital video billboard at Wuhan Gongyi Tower on Zhongshan Road in Wuhan, China. Network CN's rights to operate this mega-size video billboard for advertising extend for a period of five years.
"As of December 31, 2007, our media network had grown to comprise rights to install and operate 923 roadside LED panels and 8 mega-size digital video billboards,' Godfrey Hui, Chief Executive Officer of Network CN, commented. 'We are proud to extend our media network with this additional prominently placed mega-size digital video billboard in Wuhan. As our Media network continues to expand, our advertisers will benefit from our reach, fulfilling our growth strategy and building shareholder value for our investors."
Wuhan, the capital of Hubei Province, is among the largest cities along the Yangtze River, with a population of eight million. It is a hub for economic and cultural activity in Central China. Wuhan's Gongyi Tower is in the city's central commercial district, which attracts over 450,000 people a day.
安博集团宣布与武汉维奥广告公司达成业务合作协议。根据双方协议,安博通过子公司上海高界广告有限公司获得在武汉中山路武汉工艺大厦外安装和操作200平方米数码视像屏幕的权利。安博将在五年合作期内对该超大型屏幕进行广告发布经营管理。
"截至2007年12月31日,我们已获得了923块路边LED广告牌以及8块大型数码广告牌的广告经营权,"安博的首席执行官许展堂说道,"即将在武汉安装的这块大型数码屏幕将进一步拓展我们的媒体网络,对此我们感到非常高兴。本公司媒体网络的持续扩张将不断增加广告的收益,由此也可推动我们发展策略的实现,并为股东创造更大的利润"
武汉是湖北省会,长江重镇,人口800万。武汉也是华中经济文化中心。武汉公益大厦位于城市中央商务区域,每日人流量超过45万人次。