We help you get in-touch with people.
我们极力为客户对接更多群众。
Out-of-home roadside LED video panels and mega-size digital video billboards. in Beijing, Shanghai and other major cities on government approved locations.
户外路边 LED 视频面板和超大尺寸数字视频广告牌。 在北京、上海和其他主要城市的政府批准地点。
Network CN Inc. secures rights to 98 freestanding light boxes at Beijing International Airport's new international terminal
安博(美国)集团获权在首都国际机场的新航空站设置98块自由站立式灯箱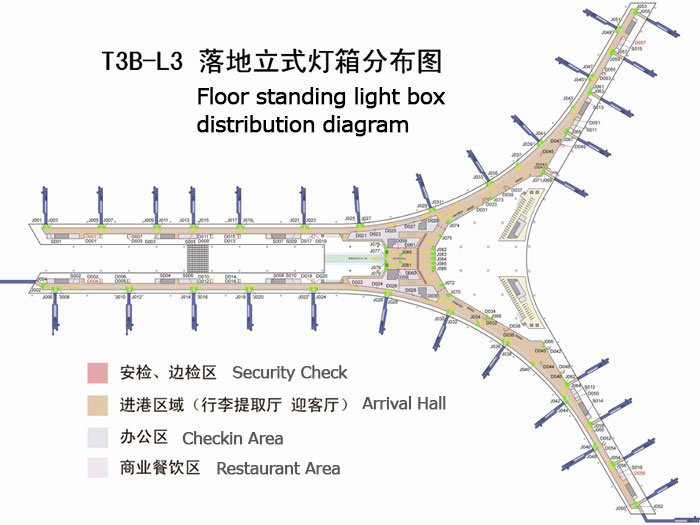 Network CN Inc. announced that it has secured the advertising rights of 98 freestanding light boxes at Beijing International Airport's Terminal 3.  Beijing International Airport is the busiest airport in the People's Republic of China and was the second-busiest airport in Asia and the ninth-busiest in the world in 2006 passenger traffic.  It currently operates around 1,100 flights a day, but is expected to handle 1,500 or more daily flights for the Olympics in 2008.  Terminal 3 is the new international terminal which is slated to open in March 2008. 
安博(美国)有限公司宣布已获权在首都国际机场的三号航空站设置98块自由站立式广告灯箱。以2006年的客运量来计算,首都国际机场是中华人民共和国最繁忙,亚洲第二繁忙和世界第九繁忙的机场。目前每天在这里起落的航班数约有1,100个,到2008年北京奥运会期间这个数字预计会超过1,500个。新建的三号航空站将于明年三月份竣工。
Network CN Inc. Adds 1 Mega-Size Digital Video Billboard on East 3rd Ring Road, Beijing
安博 (美国) 有限公司获权在北京展示最大型数码视频广告牌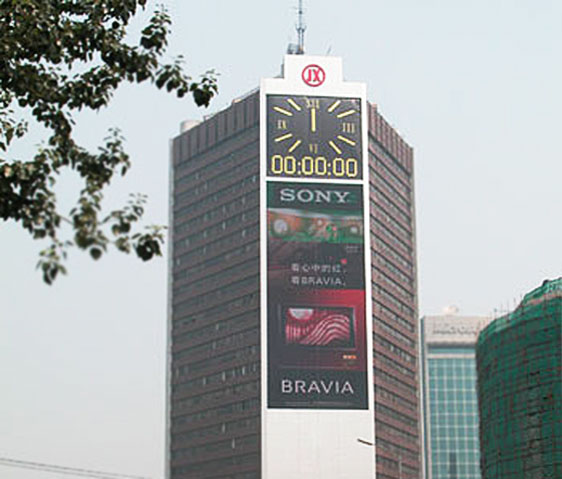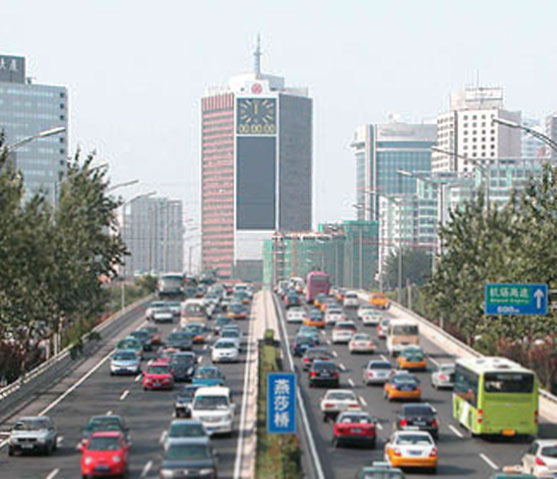 Network CN Inc. announced that it has secured the rights to operate the largest mega-size high resolution LED advertising billboard in a prominent location in China's capital city, Beijing.
The billboard, covering more than 758 square meters, is located on the East Third Ring Road near the Airport Highway exit.  It is installed on the wall of Jingxin Tower and measures 17.9 meters wide and over 42 meters high. 
Network CN is operating this billboard through its PRC advertising subsidiary. Since going live in September, the billboard has displayed the advertising of such prominent companies as Microsoft, Pepsi and Chrysler.
"It is very exciting to have secured the right to operate the largest, most vibrant and most attractive LED billboard in Beijing," commented Godfrey Hui, Chief Executive Officer of Network CN.  "We believe that this ideally located billboard, which is on the most central ring road directly linked with the highway network has brought us and will continue to bring us new business and revenues.  It is an important milestone for us to add the most desirable billboard in Beijing to our network in preparation for the upcoming Olympic games."
Location : Jingxin Tower, East 3rd Ring Road, near Airport Highway
Size : 17.92 meters width x 42.336 meters height = 758.66 square meters
安博(美国)有限公司宣布已获权在中国首都北京的一个黄金地段展示其最大型的高清晰度LED广告展牌。该广告展牌宽17.9米,高42米,面积超过758平方米,安装在位于首都机场高速公路出口处东三环路上的京信大厦外墙上面。安博(美国)有限公司通过其在华广告子公司来运行该广告牌。自该广告牌9月份投入运行以来,已经展示了诸如微软、百事和克莱斯勒汽车等著名公司的广告。
安博(美国)有限公司首席执行官许展堂先生说:"能够获权在京运行最大的、动态的以及最有吸引力的广告牌真是一件非常让人兴奋的事。我们坚信,这个位于北京中心环线、与高速公路网直接连通的理想的广告展牌会为我们带来更多的新生意和收入。对于我们而言,在奥运会来临之际,能够把北京最理想的广告展牌纳入到我们的广告网络体系中,这是一个很重要的里程碑。"
位置 : 京信大厦, 东三环北路, 近机场高速
面积 : 17.92 米阔 x 42.336 米高 = 758.66 平方米
Network CN Inc. adds 1 mega-size LED billboard on Wangfujing, Beijing
安博(美国)有限公司在北京王府井获得一块大型广告牌
Wangfujing street located in the Dongcheng District of Beijing, is one of the Chinese capital's most famous shopping streets. Much of the road is off-limits to cars and other motor vehicles, and it is not rare to see the entire street full of people, turned into one of China's most attractive and modern boulevards. Since the middle of Ming Dynasty there have been commercial activities. In the Qing Dynasty, eight aristocratic estates and princess residence were built here, soon after when a well full of sweet water was discovered.
Size : 10m (w) x 8m (H)
Flow rate : 600,000p/ day
Festival Holiday : 800,000p/ day
王府井大街位于北京市东城区,是中国首都最著名的购物街之一。 大部分道路禁止汽车和其他机动车辆通行,整条街道挤满了人并不罕见,变成了中国最具吸引力和现代感的林荫大道之一。 自从明代中期以有商业活动。 清代曾不久后发现了一口甘水井后就在此修建八座贵族庄园和公主府。
尺寸 : 10m (阔) x 8m (高)
流量 :600,000p/ 天
节日假期 :800,000p/ 天
Network CN Inc. adds 1 mega-size LED billboard (120 square meters) at The Workers' Stadium, Beijing
安博(美国)有限公司在北京工人体育场获得1个120平方米的大型广告牌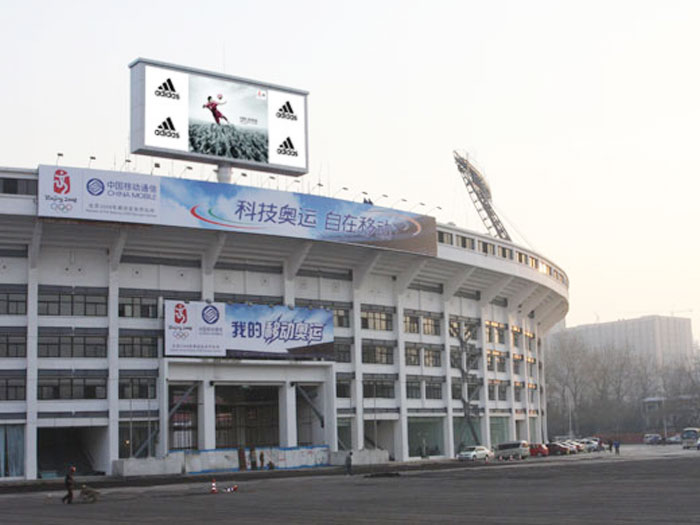 BAMC City TV Beijing Olympic 2008 advertising programs
城市电视北京2008奥运广告推介方案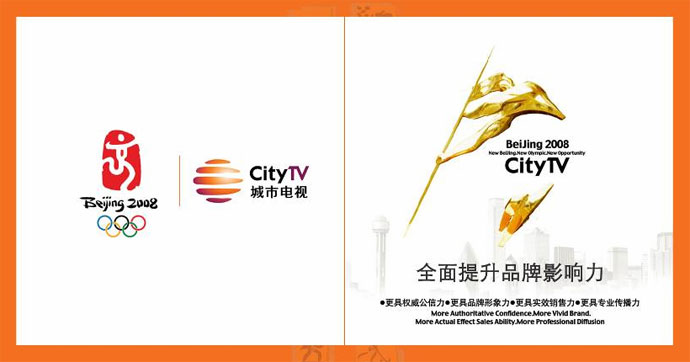 BAMC City TV-Beijng Olympic Advertising's unique outdoor media advertising platform
The Gaojie Advertising under Network CN inc. successfully obtained the advertising agency rights of BANC City TV (city TV building LCD TV and city TV outdoor LED large-screen TV) in Beijing in 2008. We worked closely with BANC City TV in 2008, not only operating the 11,000 building LCD TVs of Beijing City TV Network, but also serving as advertisers on 25 Olympic Cultural Plaza LED screens and 19 commercial LED screens during the Olympics Provide the most influential outdoor media. Network CN will uphold its consistent purpose and bring an unprecedented win-win model to advertisers and audiences through a strong outdoor media network, high-quality imported hardware facilities and the most competitive prices in the market.
城市电视北京2008奥运广告推介方案
安博集团其下的高界广告成功取得北广传媒城市电视(城市电视楼宇LCD电视和城市电视户外LED大屏幕电视)在2008年北京的广告代理权。我们在2008年与北广传媒紧密合作,不单经营北京城市电视网络的11,000块楼宇LCD电视,还会在奥运期间,在25块奥运文化广场LED大屏和19块商业LED大屏上为广告客户提供做最有影响力的户外媒体。安博将秉承一贯宗旨,通过强大的户外媒体网络,优质的进口硬件设施和市场上最具竞争力的价格,为广告客户和受众带来前所未有的共赢模式。